Open Houses Hosts Wanted! Saltaire Arts Trail 23 – 25 May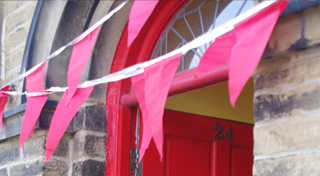 SALTAIRE RESIDENTS:
We are looking for Saltaire residents to participate as host 'galleries' and to show work by selected artists in their homes on the Open Houses Trail, open to the public for the three-day event over the late May Bank Holiday weekend (Sat 23 – Mon 25 May). The artists will install and invigilate their 'gallery' in collaboration with you and with the full support our event team.
This is a unique opportunity for you to fill your home with high-quality contemporary artwork and handcrafted pieces, to support UK artists and makers and to be part of a relaxed, fun and friendly event, that brings some of the country's best contemporary art to Saltaire's unique spaces. NEW for 2020, we will also be selecting artists to present performance/live art, small scale installations etc in a new strand of Showcase houses.
SALTAIRE ARTISTS:
We also want to hear from Saltaire-based artists who would like to open their own home as a venue on the Open Houses trail.
Interested? Contact Peter by Mon 9 Feb, at: [email protected]