CALLING SALTAIRE RESIDENTS!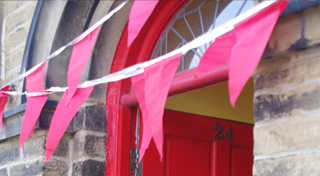 OPEN VILLAGE TRAIL – HOSTS WANTED
Saltaire Arts Trail 2022 (30 April – 2 May)

SALTAIRE RESIDENTS:
We are looking for Saltaire residents to participate as host 'galleries' and to show work by selected artists in their homes or windows on the Open Village Trail, open to the public for the three-day Saltaire Arts Trail over the May Day Bank Holiday weekend (Sat 30 April – Mon 2 May). The artists will install and invigilate their 'gallery' in collaboration with you and with the full support our event team.
Following on from the success of our Window Gallery Trail in 2021 and our popular Open Houses Trail (which has been a key part of the Arts Trail since it began in 2006), our Open Village Trail in 2022 will show high-quality contemporary artwork and handcrafted pieces in the unique spaces of Saltaire, both in homes and windows. This is a unique chance to support UK artists and makers and to be part of a relaxed, fun and friendly event, that brings some of the country's best contemporary art to Saltaire.
SALTAIRE ARTISTS:
We also want to hear from Saltaire-based artists who would like to open their own home or window as a venue on the Open Village Trail.
Interested? Contact Peter by 20 December at: [email protected]