CALLING SALTAIRE RESIDENTS!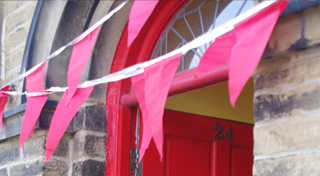 OPEN VILLAGE – HOSTS & VENUES WANTED
Saltaire Arts Trail 2023 (27 – 29 May)
SALTAIRE RESIDENTS:
We are looking for Saltaire residents to participate as host 'galleries' and to show work by selected artists in their homes or windows in our Open Village , open to the public for the three-day event over the late May Bank Holiday weekend (Sat 27 – Mon 29 May). The artists will install and invigilate their 'gallery' in collaboration with you and with the full support our event team. This is a unique chance to support UK artists and makers and to be part of a relaxed, fun and friendly event, that brings some of the country's best contemporary art to Saltaire.
SALTAIRE ARTISTS:
We also want to hear from Saltaire-based artists who would like to open their studio, home or window as a venue in the Open Village.
BUSINESSES & COMMUNITY BUILDINGS:
If you have space – small or large – to show artwork and are interested in becoming an Open Village venue, we'd love to hear from you.
Interested? Contact Lana and Peter as soon as possible at: [email protected]