Free Family Activities 2017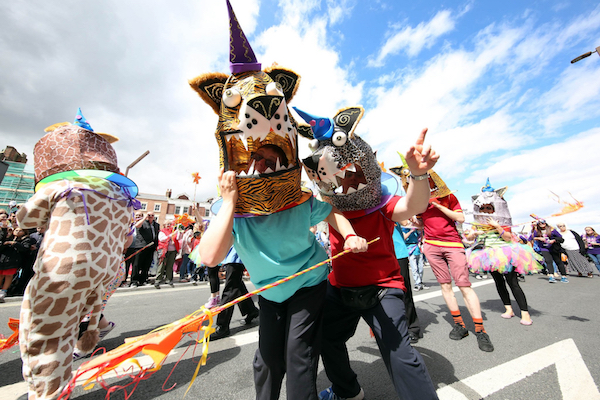 OUTSIDE VICTORIA HALL
Sat 27 – Mon 29 May, 10am – 4pm – Inside Out!
Burnett and Catt, with some special guest artists, will be turning art literally inside out and upside down with fun family activities across the Arts Trail weekend. Come along and help us transform the space outside Victoria Hall into a colourful, living and breathing Art Gallery.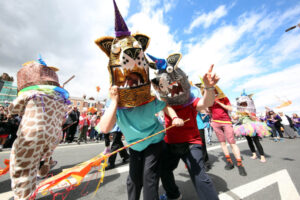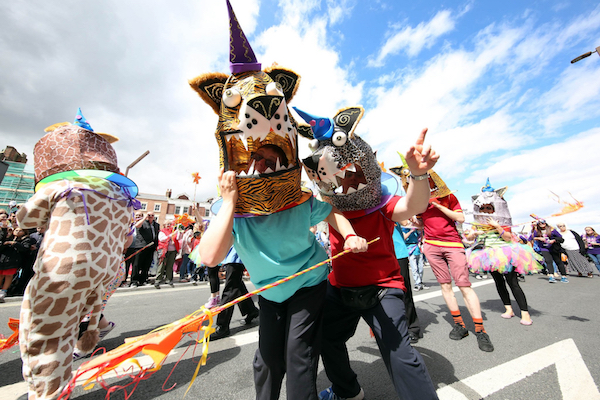 Burnett and Catt are Bradford 
based visual artists with decades of experience in creating inventive and playful structural works, big build costumes and inspiring projects.
They love helping communities to bring their ideas to life and work in museums, galleries and at large scale celebratory carnivals and events across the country.
The Llama Parlour: a surreal lifesize colouring and sculpting area, based on a Victorian Parlour, but set on the Lawns of Victoria Hall. There's lots of fun to be had in an evolving, interactive installation that will transform throughout the festival – you can add to it by colouring, patterning, sculpting or just posing in it! Think of it as a giant outdoor colouring book that can be anything you want it to be as long as its bold and bright – let your imagination run riot.
The Third Plinth: did you know that the wonderful Saltaire Lion sculptures were originally designed for the base of Nelson's Column in Trafalgar Square? With that illustrious history in mind we'll be helping you to become another Saltaire sculptural masterpiece! Perhaps you'd like to
be a spectacular Saltaire Lion, an imposing, bearded Titus Salt, a flamboyant, furry llama or just about anything else that takes your fancy! Every day we'll be on hand to help you create cardboard costumes and accessories so that you can take your turn posing on Saltaire's 'Third Plinth'.
Saltaire Danglers: make something bright and breezy to remind you of Saltaire. Have a go at creating a simple celebratory Saltaire Lion or Titus Salt decorative lantern to take home, finish it with a colourful streamer mane or a luxurious curly beard
Saturday 27th May, 10am – 4pm – Swanning about
Special guest artist Catherine Mercer creates colourful, quirky sculptures and artworks in her secret woodland retreat far distant from reality or civilization, but really just 7 miles from Keighley. On Saturday, Catherine will be on hand to help you make Inside Out Ugly Duckling Swans. Take them for a raucous waddle or an elegant glide in our Swan Pond.
Sunday 28th May, 10am – 4pm – Hats of Imagination
Let the thoughts and dreams inside your head appear on top of
your head! An exciting hat making workshop using entirely recycled materials led by special guest artist Carine Brosse. Carine is based in the Dales and tells stories through her beautiful sculpture, assemblage and collage. She is a curator at The Wishbone Gallery and works for several festivals and charities.
ROBERTS PARK 

Sat 27 – Mon 29 May, 10am – 4pm – Sponge Tree in the Park
Come down to Roberts Park and help Nicola & Paula from Sponge Tree weave a huge colourful picnic blanket. Become the warp and weft as you climb under and over fabric covering the grass. Human weaving at its best and most fun!
You can also join Higher Coach Road Young Artists who will present art workshops, inspired by their year of creating Artwork on Baildon Riverbank. An improvised cinema will screen short films made by
the Young Artists on behalf of Multi-Story Water. Inspired by tales of the Saltaire lions and Charles Kingsley's
 Water Babies, this film project
celebrates Higher Coach Road's riverside community from a youthful perspective.