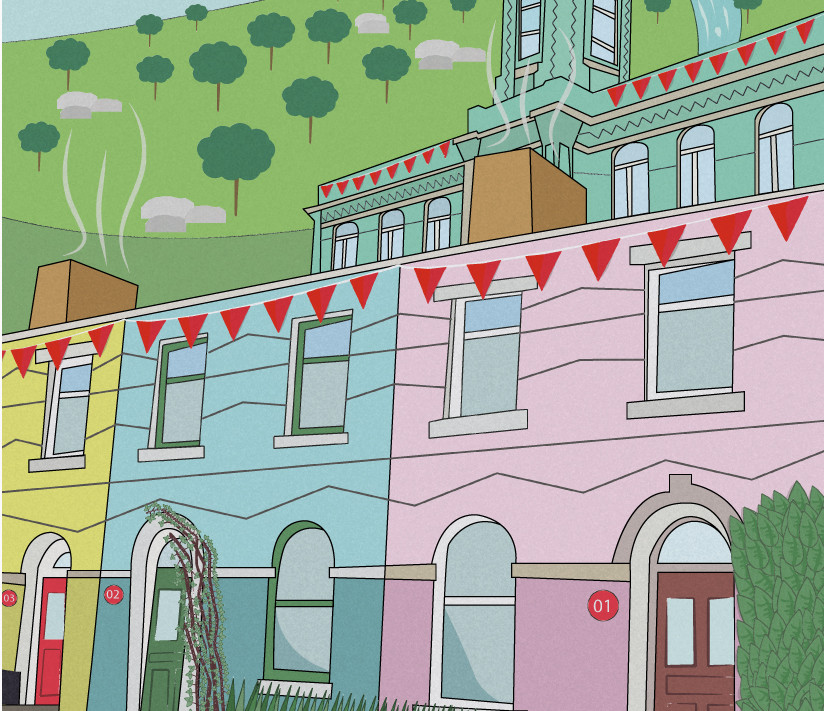 Saltaire Arts Trail   28-30 May 2016 –  Thanks to all who made it a great one.

This year our theme was Be Part of The Art and our programming aimed to get the public involved in creating art as well as experiencing it.
There were, of course, our famous Open Houses and Makers Fair, allowing vistiors to experience Saltaire village opened up to the public through contemporary art and design.
In addition, with support from the National Lottery through Grants for the Arts, commissioned three new participatory installations by established Bradford-based artists.
◤ Lasting Impressions by Hannah Lamb and Claire Wellesley-Smith
◤ A Moveable Feast by Burnett & Catt
◤ Miss Inform by Irregular Arts
We also supported two innovative photographic exhibitions by artists based in Saltaire;
◤ The Real Junk Food Project by Shy Burhan
◤ Being Inbetween by Carolyn Mendelsohn
and brought a taster of a mixed media exhibition which references the industrial and textile heritage of Bradford:
◤ Tangled Yarns, by Alke Schmidt 
And, in keeping with our Be Part of the Art theme, there were a wealth of ways to get involved during a visit to the Arts Trail:
◤ Free artist-led creative family activities to drop-in and enjoy at 5 outdoor locations across the village.
◤ Bookable artist-led workshops 
◤ Artist demonstrations in  Victoria Hall and in Saltaire Methodist Church.
◤ We also invited everyone – not just professional artists – to exhibit at this year's Arts Trail by sending us their own 6×4 inch artwork for our Postcard Exhibition
Relive the weekend – or see what you missed!
Six volunteer photographers took on the challenge of documenting the Art Trail this year: see what they captured on the Saltaire Inspired Flickr
Gareth and Elliot of White Rabbit Productions created a wonderful series of short vidoes to document the event. Watch them all on the White Rabbit Vimeo