Saltaire Arts Trail 2020 – Announcement regarding Covid-19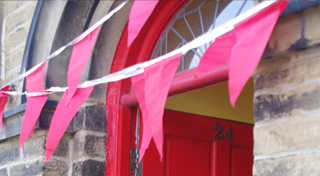 Over the last few months, we have curated a programme of work from over 120 visual artists and contemporary craft designer-makers to present in our Open Houses trail and Makers Fair at Saltaire Arts Trail 2020, as well as a series of special exhibitions, family activities and workshops.
Due to the current Covid-19 pandemic, we will not be able to share this work with you in the form of Saltaire Arts Trail in May.
We are delighted to be able to share the selected artists and some of the planned projects with you online. We hope these will bring a little bit of joy to our followers and supporters and will help support and platform these artists through this difficult period.
At this time of such uncertainty we know that everyone will be worried about what the near future will hold, so it's more important than ever to support each other and show one another a little kindness. It's time for some creative rethinking and who better than the arts community to take the opportunity to develop creative solutions to these new and unprecedented issues we are now all tackling.
Stay safe, stay well, and stay positive.
With very best wishes from the Saltaire Inspired Team