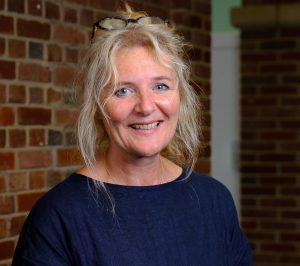 Having reached the end of my tenure of six years, it is now time to step down as Chair of Saltaire Inspired to make way for the next chapter!
Since 2017, we have built a fabulous team of creative freelancers, volunteers and Trustees who have all worked together to bring over 1000 contemporary artists and designers to present and sell their work at the Saltaire Arts Trail and Makers Fair. Additionally, over 200 windows have been illuminated during the Saltaire Living Advent Calendar each December. 
We have navigated the trials and tribulations of a pandemic, when we ran online events, and also provided training for artists and designers on this process. 
Each year, we have generated new arts commissions,  receiving funding from the Arts Council, and even bought the heritage telephone box in Saltaire to use as a unique community exhibition space! 
We have built international relationships with artists and producers in Sweden, Pakistan and Brazil, and this year a delegation from our EU project BE:Cultour – colleagues from Finland, Belgium, Wales, Italy, Cyprus, Portugal and the Netherlands – will visit during the Arts Trail to hear about what we do and build international partnerships for the future. 
We could not have developed all of this without the continued support of Bradford Council, and we are fortunate to have become a regularly funded organisation in Bradford's cultural portfolio, ensuring that we contribute to the city's strategic plan  'Culture is Our Plan' and to Bradford 2025. 
Saltaire Inspired has a clear vision for the future, a dedicated team of Trustees and Volunteers and key partnerships with businesses, such as Salts Mill. I really am sad to be standing down but am proud of everything we have achieved together and I know Saltaire Inspired will go on to even greater things. 
This is a wonderful organisation to be a part of and an exciting opportunity for the next Chair to help shape the cultural landscape of our very special area. If you are interested in applying for the Chair role or becoming a Trustee, please get in touch for an informal chat – or come and visit us at Saltaire Arts Trail over the Bank Holiday Weekend. 
Julia Calver, Chair of Saltaire Inspired