European visitors learn about tourism, West Yorkshire style
A delegation of tourism and culture experts from across Europe visited Saltaire and the Bradford area over the bank holiday weekend (27 – 29 May) to learn more about key events and destinations in the district, including Bradford 2025.
Organised by Saltaire Inspired and focussed on our annual Saltaire Arts Trail, the visit was organised with Be.CULTOUR (Beyond Cultural Tourism), an EU-funded project aimed at working with communities across Europe to create sustainable, community-led cultural tourism opportunities.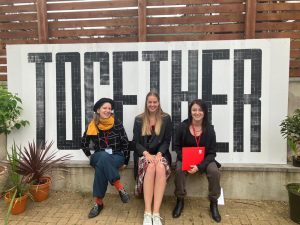 Visitors from local authorities and tourism organisations in Belgium, Finland, Portugal, Netherlands and Italy visited the Saltaire Arts Trail, including the Open Village and Makers Fair, as well as visiting Salts Mill, Shipley, Cartwright Hall, the Industrial Museum and Haworth. They also attended a reception to celebrate the first anniversary of Bradford being awarded City of Culture 2025, and on Tuesday 30 May they were back at Cartwright Hall for a workshop and networking event involving discussions about Bradford 2025 and sharing ideas they can take back to their own regions.
Saltaire Inspired is a regional representative in the Be.CULTOUR community and Chair Dr Julia Calver was instrumental in organising the visit:
"Saltaire Inspired was invited to join Be.CULTOUR because of the way we work and engage with the local community across Saltaire, Shipley and Bradford to create cultural events and opportunities. Our visitors want to learn about how we create annual events like the Living Advent Calendar and the Open Village at Saltaire Arts Trail, where local people allow their homes to be used as exhibition spaces. And of course they want to find out more about Bradford 2025, the bid leading up to it and what is planned for that amazing year. We also have two guests from cities that have been European City of Culture – Leeuwarden-Friesland in the Netherlands and Basilicata in Italy – so we will all be hoping to learn lots from them too."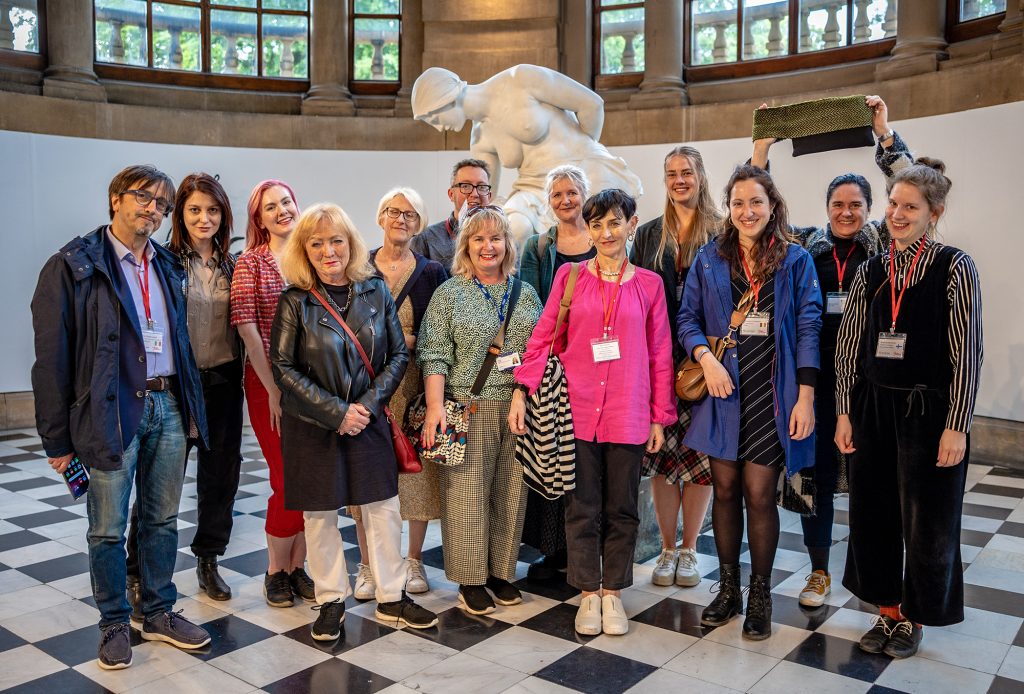 Bradford Council and Bradford Cultural Voice – a network of more than 300 artists and arts organisations – have supported the visit, added Julia, helping to give the visitors a brilliant experience of the cultural tourism expertise and opportunities in the district.
One of the visitors was Lisa van der Lem from the Municipality of Leeuwarden in the Netherlands, which was European Capital of Culture 2018. She said:
"Bradford, as a whole district, has a lot of similar challenges as Leeuwarden is experiencing; Bradford is a lot bigger, but it's a city within a large rural area, with marginalised lower-income population, and trying to become more inclusive in terms of culture. And culture is for everybody, not only for some. So that's what I'm really looking forward to learning from here, as that's a really big part of Bradford as City of Culture 2025. And also with Saltaire and Saltaire Inspired, it's such a great local community initiative and it's very extensive in terms of sites. It's great, and I've enjoyed learning more about that, and seeing how it works in real life."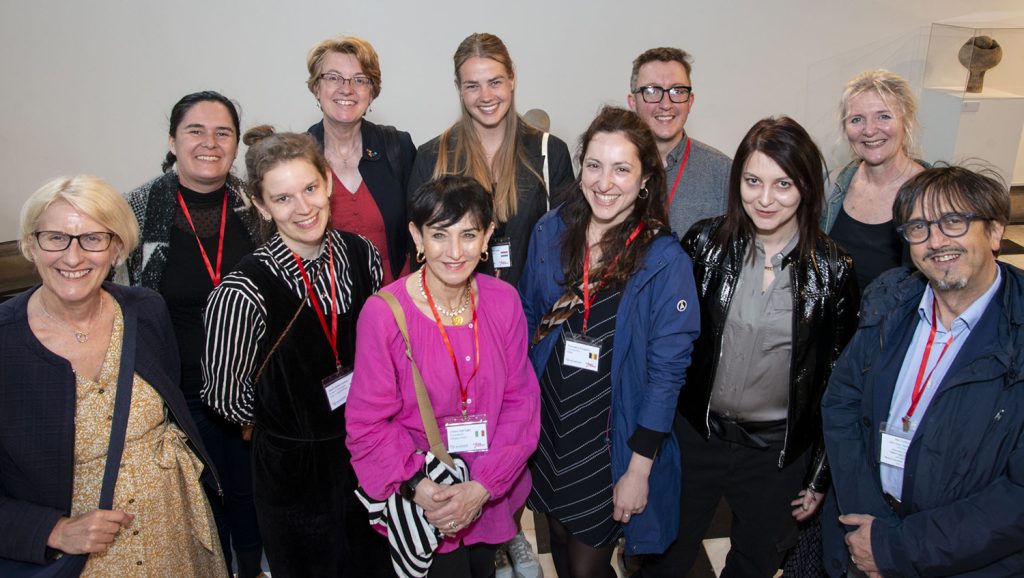 Francesca Pozzebon, ERRIN co-ordinator from Belgium added:
"The most exciting thing for me is really the sense of community that this project brings. You wouldn't think that Saltaire in the UK and a little village in Sicily would actually have common challenges, and they can find together common solutions. They are so different; there are economic and social conditions that you can imagine are complete opposites, and by putting them together in the same community, you can find that some challenges are the same, and you can work together on common solutions, and really have a sense of helping each other. For me, being in a wider community and not just on a local level, that is what is most interesting."
———————————–
PHOTOGRAPHS:
(Top) At The People Powered Press, Salts Works, Saltaire, photo by Julia Calver
L-R: Lisa van der Lem (Municipality of Leeuwarden, Netherlands), Veera Kolehmainen (City of Savonlinna, Finland) and Valentina Apicerni (CNR – Italy).
(Middle) At Cartwright Hall Art Gallery, photo by Karol Wyszynski
L-R: Serafino Paternoster (APT – Basilicata, Italy), Valentina Apicerni (CNR – Italy), Lana Moorhouse (Saltaire Inspired), Mary Dowson (BCB Radio), Alison Levett (Saltaire Inspired), Daniel Breeze (Saltaire Inspired), Sonja Kietly (Bradford Metropolitan District Council & Saltaire Inspired), Julia Calver (Saltaire Inspired), Chiara Dall'Aglio (Sviluppumbria, Italy), Lisa van der Lem (Municipality of Leeuwarden, Netherlands), Francesca Pozzebon (ERRIN, Belgium), Mariana Calaça Baptista (CREATOUR, Portugal), Veera Kolehmainen (City of Savonlinna, Finland).
(Bottom) At Cartwright Hall Art Gallery, photo by Tim Smith
L-R: Alison Levett (Saltaire Inspired), Mariana Calaça Baptista (CREATOUR, Portugal), Veera Kolehmainen (City of Savonlinna, Finland), Councillor Susan Hinchcliffe (Leader of Council & Corporate Portfolio, Bradford Metropolitan District Council), Chiara Dall'Aglio (Sviluppumbria, Italy), Lisa van der Lem (Municipality of Leeuwarden, Netherlands), Francesca Pozzebon (ERRIN, Belgium), Daniel Breeze (Saltaire Inspired), Valentina Apicerni (CNR – Italy), Julia Calver (Saltaire Inspired), Serafino Paternoster (APT – Basilicata, Italy)