Call out for Textile Artist – Freelance Commission
509 Arts and Bradford Community Broadcasting (BCB) are seeking an artist or collective with experience of textiles to provide an interpretive artwork as part of Lost Mills and Ghost Mansions. This commission will be developed in partnership with Saltaire Inspired and Bradford District Museums and Galleries (BDMG) .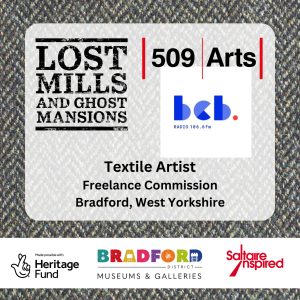 The City of Bradford is a metropolitan district in West Yorkshire. With a diverse population of circa 500,000, it has a rich textile history that spans nearly two centuries. Once one of the most prosperous cities in Yorkshire, the district's human textile story is a rich seam of stories and experiences that reflects the many diverse communities that have made Bradford their home. The district's economy was deeply affected by the closure of hundreds of mills in the last half of the 20th Century and today only a few working mills remain, often specialising in hi-tech, high quality fabrics. In 2025, Bradford's creativity, heritage and culture will be celebrated when it becomes the next UK City of Culture.
> Download the commission brief here
We welcome applications from single artists, collaborations or collectives for this commission. The commissioned artist will report to Alan Dix, the Project Director, together with members of the advisory group which includes Saltaire Inspired, Bradford Community Broadcasting, BMDG. It is anticipated that the commissioned artist will work primarily from their own studio/workspace. To discuss this contract, please contact Marie Millward [email protected].
If you wish to be considered for the commission, please submit your application by email to [email protected]
The deadline for applications is Monday 4 December 2023.