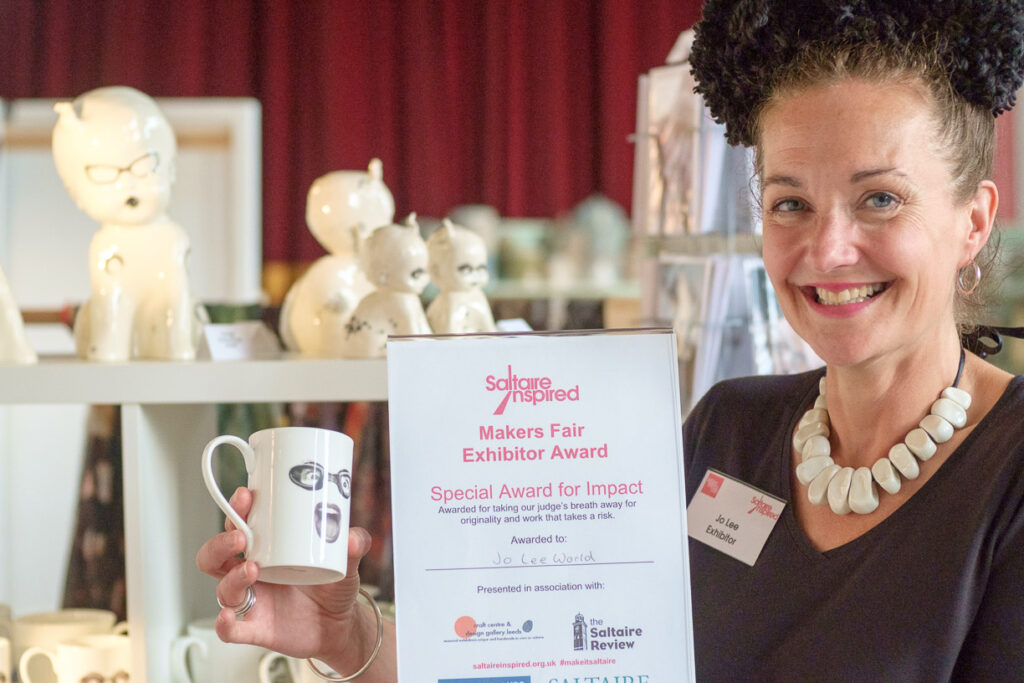 Our Makers Fairs have a growing reputation amongst exhibitors and visitors alike, and have become a showcase for some of the best contemporary craft available for sale or commission in the north of England.
Artists and designer-makers travel to Saltaire from across the UK bringing high-quality, innovative work in a wide range of craft disciplines. There are demonstrations of craft techniques and a very popular Art Tombola, with amazing prizes donated by the artists and makers, the proceeds of which go towards funding Saltaire Inspired's community events , including the Living Advent Calendar.
One aim of the Makers Fair is to support and promote UK craft practitioners. Since 2015, we've been providing subsidised spaces for new graduates from Bradford School of Art, and this September we launched a new Makers Fair Exhibitor Award scheme to highlight creativity, professionalism and good practice.
We were delighted to welcome Hayley Walker, Artistic Director at the Craft Centre and Design Gallery, Leeds as our judge. Hayley was hugely impressed by the quality of the exhibitors and deliberated long and hard over her decisions.
Award for the Best Display, for the most creative and outstanding display stand.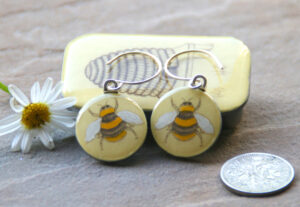 The winner was Leigh Shepherd, whose work will be familiar to many in Saltaire. Leigh, from Haworth, creates a range of resin art tiles and jewellery using upcyled materials; earrings from sixpence coins, pendants from Scrabble tiles, brooches from dominoes..and this year a new range of Resin Art Boxes. She has developed an individual style of dressing her display which makes it intriguing and welcoming to visitors – experience shows! See more of Leigh's work at Leigh Shepherd Designs
Close runners-up in this category were : Dear Emma Designs, and Heartfelt Dogs
Best Newcomer Award : for the outstanding exhibitor in their first year at the Makers Fair.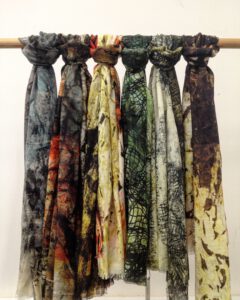 Our winner was textile artist Lubna Din.
Lubna recently completed her MA in Contemporary Craft Practice at Nottingham Trent University, and her delicate textile work references a rich textile heritage of the Kashmir Valley, with motifs that trace family stories and memories. The Makers Fair was her first commercial show. Our judge was impressed by the very high level of skill shown in Lubna's work, as well as with her enthusiasm and passion. Find out more on her blog 'A tin full of Memories'
Specially commended in this category were: Sid Barlow, Emma Louise Wilson, Judith Brown Jewellery, What Kate Loves, and Julia Ogden.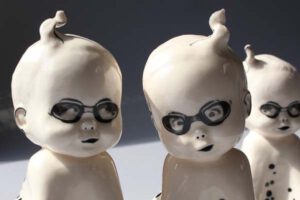 Special Award for Impact
Awarded to ceramicist Jo Lee for taking our judge's breath away with originality and work that takes a risk. This award didn't actually exist until Hayley saw Jo's funny/disturbing ceramic work, which doesn't fit into either of our original categories but which, she felt, should be celebrated for that very reason. Jo is a regular visitor to Saltaire, and has shown in the Open Houses as well as the Makers Fair. Our judge was bowled over by the quirky individuality of the work, and by Jo's willingness to experiment with ideas, unconstrained by the need to make sales. See more at Jo Lee World
You can find out more about all the artists mentioned – and more – on the Saltaire Inspired website's Artist Gallery. The Artists and designer-makers from September this year – and from Saltaire Arts Trail 2016 – will remain live on site until April 2017 when they will be replaced by new exhibitors.
If you are an artist or maker reading this, don't forget, the call for submissions to show at Saltaire Arts Trail is also live on the website now, with a deadline of 13th January.