Postcard Exhibition raises over £450 for charity.
Postcards raise over £450 for The Cellar Trust
Thanks to everyone who sent postcards. We had well over 200 cards sent, including painting, drawing, collage, digital, photography…and especially beautiful textiles, this year, and we raised £458 in sales! Thanks to all involved!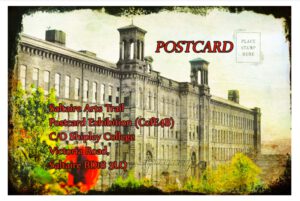 The postcards were exhibited in Victoria Hall and the United Reformed Church in Saltaire over the Arts Trail Weekend, as well as a small selection shown at the chosen charity, The Cellar Trust during June. All of the postcards were put on sale at £5 each in order to raise money for The Cellar Trust, a charity based in Saltaire that specialises in helping people recover from mental illnesses.
The exhibition was  managed and promoted by students at Shipley College, Centre for Excellence in Business