Art in Unique Spaces : How it all began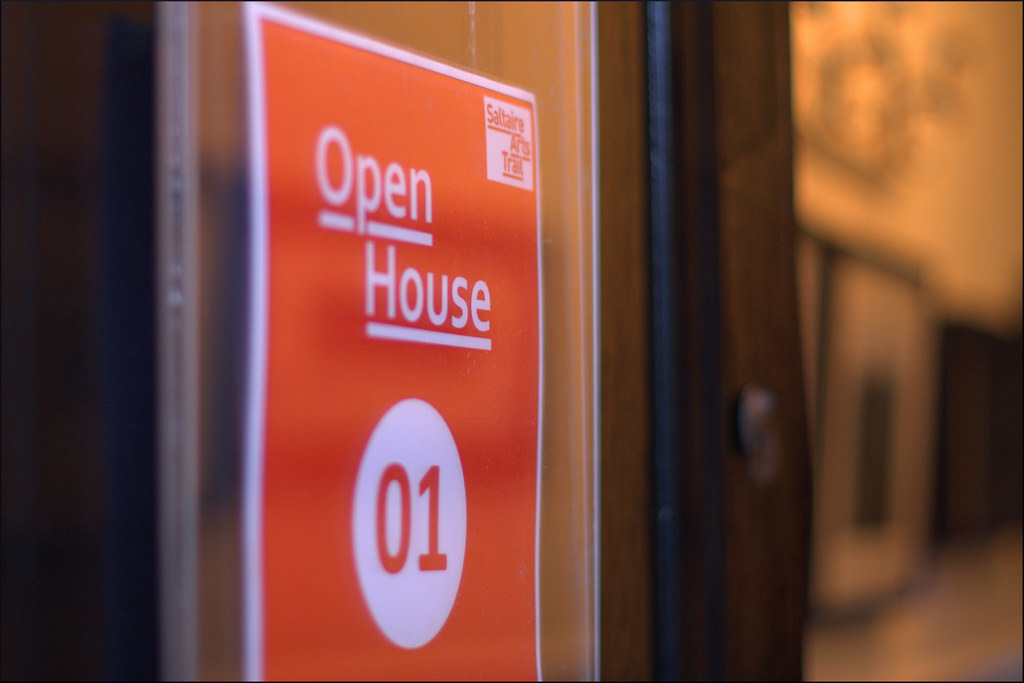 In December we celebrated our 10th Living Advent Calendar.
This year will be the 10th Arts Trail.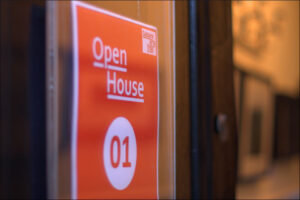 Here, David Worsley, founder of both events and of Saltaire Inspired itself, recalls 2006 and looks forward to the next decade.
David Worsley on Saltaire Inspired's events, past and future
It is hard to believe that the Saltaire Arts Trail is about to launch its 10th event. This is a fantastic milestone and all those who have been involved over the years need huge amounts of credit for creating, sustaining and delivering an event that is in such rude health.
Eleven years ago, I had recently moved to Victoria Road in Saltaire and, on discovering that Saltaire had a festival, the Saltaire Festival, I popped down to the local HQ (Helen Kemp's shop further down on Victoria Road) to volunteer. I hadn't really thought about what I could offer, maybe I could distribute flyers or something like that. A year previously, I had co-curated an exhibition in the roof space of Salts Mill of site specific work by 12 artists, of which Helen was aware. I left Helen's shop having agreed to take over the organisation of the arts offer for the festival. I wasn't expecting that but bounced the 100 yards or so home with a smile on my face, heart thumping and mind buzzing. I hastily arranged a gathering at my house and we brainstormed some ideas about what the arts offer might look like. One couple, Saviour and Gordon, who had not long previously moved up from Brighton, suggested that we use the model of the Brighton Open Houses and open up the iconic Saltaire houses as art galleries. The meeting closed with the core of an arts trail agreed: open houses, an open exhibition and a craft fair.
The December before, my wife, at the time, and I had visited some German friends in Hull. On arriving, we discovered that they had an advent window lit in one of the front windows of their house. They told us that they were participating in something called the Living Advent Calendar, where 24 houses each decorate a window, which then get illuminated, one after the other, accumulating through the month of December. We were given a tour of the windows and were enchanted. We asked where the idea had come from and were told that they had come across it by chance on a trip to Belgium. We asked if we could bring the advent calendar back to Saltaire, as it seemed the perfect location. They agreed and, if I remember correctly, hosted the first Saltaire Living Advent Calendar website. The Living Advent Calendar is still going strong and is a must-see event in the village.
Around the same time, I felt that Saltaire was missing some festive cheer in not having a Christmas tree. So, we knocked on every door in the village and asked for donations to go towards a tree and lights. That first year, the village community bought its own Christmas tree. In subsequent years, we ran the Grand Switch On, at the beginning of December, in conjunction with the Saltaire Village Society.
Saltaire Inspired Ltd was set up in 2008, borne out of the necessity to formalise the organisational aspects of running these events, to bring them under one roof, and it coordinates the arts trail and living advent calendar to this day.
There is one thing that makes Saltaire, and its evirons, so special – and that is its people. The Saltaire Arts Trail would not have got off the ground without the incredible dedication, flare and creative spirit of a small band of local people, who put in hours and hours of time to drag the event into being. That band created a magic and a spark that lit up the arts trail. And outside of that band, many, many more gave selflessly of their time, ideas and expertise. It's the same today; the arts trail was, and is, truly the best example of a community event. Creativity of every description seeps out of the cracks between the Saltaire paving stones.
And now the Saltaire Arts Trail is celebrating its 10th event! The programme looks amazing. I am especially looking forward to Inside Out, which looks incredible, also the return of Lasting Impressions in the roof space of Salts Mill, and to seeing the village painted red… I wish Julia Calver, the new Chair, every success; I know she will take the event from strength to strength.
David Worsley 2017
http://www.dovestpottery.co.uk/