Postcard Exhibition Raises Over £400 for Cellar Trust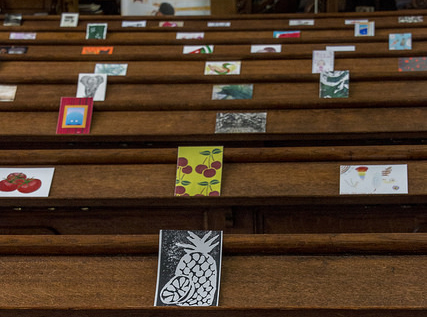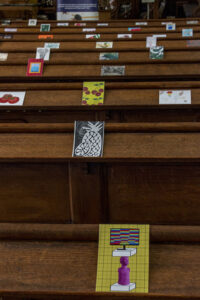 Our annual Postcard Exhibition in aid of The Cellar Trust was exhibited at the United Reformed Church during the Arts Trail on 4th – 7th May, and then moved to the Cellar Trust Cafe until the end of June. We had more than 150 contributions of artwork in a wide range of media, including drawing, painting, printmaking, photography, textiles … even wood and glass!
Students from Shipley College managed the exhibition, collating and recording entries, helping to curate the exhibition and, of course, submitting their own work. We had excellent sales once again and were able to donate more than £400 to the Trust to help with its work, helping people facing mental health problems to build brighter futures.
Andrew McCarthy from the Trust said:
"The partnership with Saltaire Inspired and Shipley College through the Arts Trail Postcard project has been brilliant for us. Providing support to people in our communities who are facing mental health challenges means that making more people aware of who we are and how we can help is really important. Over the last few years the Postcard project has been a brilliant way of raising our profile in the local community and raising funds to make sure we can continue to deliver our life changing services. The organisational skills of the Shipley College students means that the project always runs smoothly and the additional marketing materials they produce to promote the project helps with that profile-raising. The support from local artists is also fantastic, meaning that the quality of the postcard artworks is really high, although we make a point of encouraging anyone to enter, regardless of ability, and display all submissions in the exhibition. The people who come to see the exhibition love it and really enjoy the chance to take home a piece of postcard art as well as supporting a local charity like us with their £5 donation. This year we raised over £400, every penny of which will go towards helping people facing mental health problems to build brighter futures".
Every single card submitted was shown and, as in previous years, we have kept all unsold cards, firstly to show the students who'll be managing the exhibition next year what to expect, and then to show again. We've never yet had sufficient cards to fill the space available!
Our thanks to everyone who took part. We hope to see your work in Saltaire again next year.